IAPT Publications
IAPT Publications
Many important contributions in the realm of practical theology come from members of IAPT. We are working on a list of 'essential readings'. Members can submit their suggestions.
IAPT supports the International Journal of Practical Theology
From 2019 on IAPT works on Open Access publication of the Academy's conference volumes. Contents can be downloaded from the IAPT Conference Series website. The following volumes have been published: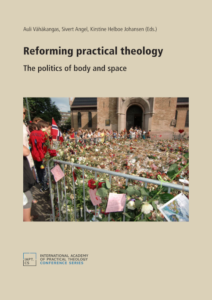 (De)coloniality and religious practices: liberating hope; edited by Valburga Schmiedt Streck, Júlio Cézar Adam and Cláudio Carvalhaes. Vol 2 (2021). Proceedings of the IAPT Brazil conference 2019.
Reforming practical theology. The politics of body and space; edited by Auli Vähäkangas, Sivert Angel, Kirstine Helboe Johansen. Vol 1 (2019) Proceedings of the IAPT Oslo conference 2017.

The listing below includes the volumes with papers of previous IAPT conferences.
12th IAPT Conference, Pretoria, South Africa, 2015
Jaco Dreyer, Yolanda Dreyer, Edward Foley, Malan Nel (Eds.)
Practicing Ubuntu
Practical Theological Perspectives on Injustice, Personhood and Human Dignity
Reihe: International Practical Theology
 Bd. 20, 2017, 272 S., 34.90 EUR, 34.90 CHF, br., ISBN 978-3-643-90848-3
11th IAPT Conference, Toronto, Canada, 2013
Pamela Couture, Robert Mager, Pamela McCarroll, Natalie Wigg-Stevenson (Eds.)
Complex Identities in a Shifting World
Practical Theological Perspectives
Bd. 17, 2015, 284 S., 29.90 EUR, 29.90 CHF, br., ISBN 978-3-643-90509-3
10th IAPT Conference, Amsterdam,Netherlands, 2011
R. Ruard Ganzevoort, Rein Brouwer, Bonnie Miller-McLemore(Eds.)
City of Desires – a Place for God?
Bd. 16, 2013, 216 S., 29.90 EUR, 29.90 CHF, br., ISBN 978-3-643-90307-5
9th IAPT Conference, Chicago, 2009
Edward Foley (ed):
Religion, Diversity, and Conflict
Münster: LIT 2011 (Series: International Practical Theology 15)
8th IAPT Conference, Berlin, 2007
Wilhelm Gräb and Lars Charbonnier (eds):
Secularization Theories, Religious Identity, and Practical Theology
Münster: LIT 2009 (Series: International Practical Theology 7)
Edward Foley (Ed.)
Religion, Diversity and Conflict
Bd. 15, 2011, 312 S., 29.90 EUR, 29.90 CHF, br., ISBN 978-3-643-90086-9
R. Ruard Ganzevoort, Rein Brouwer, Bonnie Miller-McLemore (Eds.)
City of Desires – a Place for God? Practical theological questions
Bd. 16, 2013, 216 S., 29.90 EUR, 29.90 CHF, br., ISBN 978-3-643-90307-5
Pamela Couture, Robert Mager, Pamela McCarroll, Natalie Wigg-Stevenson (Eds.)
Complex Identities in a Shifting World, Practical Theological Perspectives
Bd. 17, 2015, 284 S., 29.90 EUR, 29.90 CHF, br., ISBN 978-3-643-90509-3
7th IAPT Conference, Brisbane, 2005
Hans-Georg Ziebertz and Friedrich Schweitzer (ed):
Dreaming the Land. Theologies of Resistance and Hope
Münster: LIT 2007 (Series: International Practical Theology 5)
6th IAPT Conference, Manchester, 2003
Elaine Graham and Anne Rowlands (ed):
Pathways to the Public Square
Münster: LIT 2005 (Series: International Practical Theology 1)
5th IAPT Conference, Stellenbosch, 2001
Pamela D. Couture and Bonnie J Miller-McLemore (ed):
Poverty, Suffering and HIV/AIDS
Cardiff: Cardiff Academic Press:  forthcoming.  2003
4th IAPT Conference, Quebec, 1999
Paul Ballard and Pamela Couture (eds):
Creativity, Imagination and Criticism – the Expressive Dimension in Practical Theology
Cardiff: Cardiff Academic Press, 2001
341pp  ISBN 1-899025-24-3  £21.50
3rd IAPT Conference, Seoul 1997
Paul Ballard and Pam Couture (eds):
Globalisation and Difference – Practical Theology in a World Context
Cardiff: Cardiff Academic Press, 1999.
212pp. ISBN 1-899025-11-1  £21.50