2019 São Leopoldo
2019 São Leopoldo
IAPT São Leopoldo 2019 conference
Theme: (De)coloniality and Religious Practices: Liberating Hope
Date: 4-8 April 2019
Faculdades EST, São Leopoldo, Brazil
For all details, please visit the conference website!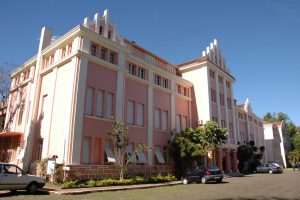 The IAPT biennial conference in 2019 is located in Brazil, Latin America, a context where liberation and hope are central motives of Liberation Theologies, deeply rooted in the Latin American cultures. São Leopoldo, located in South Brazil, is considered the birthplace of German immigration that began in 1824. The city has a population of 214,087 inhabitants, having experienced a very strong demographic growth since 1960 due to the footwear industry, with people coming from the countryside to work in factories. The result was a rapid population growth not accompanied by investments in infrastructure to receive such a large influx of migrants, resulting in a large population lacking adequate housing, health, education and other resources. In terms of religion, besides the historical Churches, there is an effervescence of Pentecostal movements as well as afro religions.

Today we recognize a plurality of theological approaches, which require that Practical Theology position itself in face of these new, sometimes difficult challenges, evaluating how they contribute to a new culture of liberation and hope. One of these approaches is the (De)colonial Theology which affords an opportunity to unveil and investigate the different mechanisms that control the economy, authority, natural resources , gender and sexuality, and subjectivity and knowledge.
The topic (De)coloniality and religious practices: liberating hope is the theme of the Conference and will guide the keynotes,roundtables, plenary as well as paper and poster presentations with the aim of discovering the place of Practical Theology in a world with constant changes and contrasts.
(De)Coloniality
The concept of coloniality refers to the processes of domination that have not ended with the end of classical colonialism and that reproduce themselves in the dynamics of power, knowledge and being. By trying to elucidate and contest these dynamics, it enters into dialogue with political and cultural experiences, alternative economies of popular cultures and subaltern populations that have been silenced or destroyed by the conquest that transformed Europe into the center of the world. In a certain sense, the decolonial movement and decolonial studies are an outgrowth of the post-colonial movement that happened in Asia and Africa, but decoloniality introduces some new elements, such as denouncing the "obscure face" of modernity with its devastating consequences in many parts of the world. Present day conflicts, wars, mass migrations, poverty, and unemployment challenge the academy to look at the historical processes, including or especially the mechanisms of colonization, that produced these phenomena.
We welcome papers that describe and analyze the role of Practical Theology in relationship to colonialism, postcolonialism, and decoloniality in local, regional and international contexts within a historical and socio-political framework.
Religious Practices
Latin America continues to be marked by social and economic contrasts, by violence and corruption, and ecological destruction. By contrast, cultural and religious effervescence and diversity permeate all social levels, and hope and joy are an intrinsic part of our culture. They are a source of resilience that grows out of the heritage of different spiritualities. Conviviality, hospitality, hope, sensuality, art and pop culture are expressions that link us to the hope for a better future. Undoubtedly, this surprises and causes astonishment due to the intense contradictions. This paradoxical or contrasting reality is evident in the different ways in which religions, theologies and institutions articulate their reflections and practical proposals, whether through traditional and contextual theologies, Pentecostal theology, prosperity theology and neopentecostal movements. Another very significant religious trend in the Brazilian context are the Afro religions that generally co-exist well within the Catholic Church but are discriminated against by the evangelical churches, especially the Pentecostal churches.
We welcome papers that describe and analyze the role of Practical Theology in the context of diverse practices and religious pluralism, particularly where historical churches or/and theologies find themselves faced with a new religious milieu.
Liberating Hope
We understand that it is up to Practical Theology to get in touch with different social and cultural realities, and reflect critically on the different spaces and religious expressions and theologies. It is necessary to talk about epistemological oppression, fundamentalism, and (de)coloniality with the possibility of unveiling the economic, political, cultural mechanisms to which we are all linked and that subjugate the knowledge and daily life of those who are vulnerable (indigenous peoples, blacks, women, children, nature, etc.).  The liberation theology that emerged out of and continues to influence Brazil and Latin America is fundamentally a theology of hope and struggle for a better future for life on the planet. One of its premises is exactly the non-dichotomization between theory and practice that has powerfully influenced practical theology.
We welcome papers that describe and analyze pastoral/theological practices with vulnerable people who struggle for recognition, social and institutional transformation, and environmental sustainability.